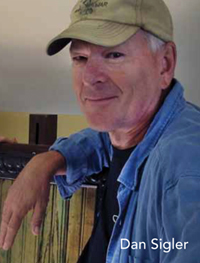 Sheridan Studio is the creative inspiration of artist Dan Sigler
who seeks to combine artistic expression and the preservation
of artifacts of the past in order to give them a new life and purpose.
"Designing and constructing new things from old and discarded
materials and casting them in a different light so as to be appreciated
for both their nostalgic past and as a pleasing artistic object is my
goal and passion."
Sheridan Studio is located in the Saugatuck/Douglas artistic
community near the inspirational shores of Lake Michigan.
All constructions are handmade and one of a kind creations.